Insignia

Boy Scout Insignia Right side Order of the Arrow (OA)

Order of the Arrow (OA) Items

The Order of the Arrow (OA) is one of three officially recognized honor camping societies of the Boy Scout Program Task Force, Boy Scouts of America. The other two are called Mic-O-Say and Firecrafters. I don't have enough information about either of those honoraries in order to put together a page featuring their official insignia; but I do have some information to provide you about the Order of the Arrow, its official insignia, and its placement on the official uniforms of the program.

The Order of the Arrow's official webpage which discusses insignia is at this location. However it has left most of the various insignia to this site and the official BSA Insignia Guide.

A site displaying much of the Order of the Arrow's insignia is located at at this location. It is managed and maintained by John Pannell.

There are specific pages within this Badge and Uniform Site which address:

(Of interest to Venturers/Venturing leaders: officially the Boy Scouts of America views the Order of the Arrow as a Boy Scout/Varsity Scout program option and activity. For that reason, Order of the Arrow lodge flaps/totems are not appropriate wear with the Venturing field uniform. Many lodges have taken issue with this decision and have allowed Venturers and Venturing leaders who became members of the Order of the Arrow AND whom are currently dues-paying members of their lodge -- the right to wear their Lodge flap/totem on the right pocket of the Venturing field uniform. A final decision on this issue will be made during the National Order of the Arrow Conference in 2015; and whichever way it turns out, notice and illustration will be posted here. In the meantime, ALL Arrowmen regardless of program may wear the official Order of the Arrow membership pin (dangle) or one of the other Order of the Arrow "dangles" suspended from the right pocket of any BSA field uniform.) (Hey, I'm just the messenger, okay? *smiling*)
---
Pam wrote and asked me:
"My son is so excited about being a part of the "indians" with the Arrow thing. I am a bit confused about the patches however -- and he can't recall what everything's for and where it all goes. He got something which I've seen other boys wear on one pocket flap. He got another thing -- does that go on the other pocket flap also? And he got some kind of large patch he says goes on a "jackshirt". Is there like a "leader of the arrow people" I can talk with? In the meantime, where do all of these patches go?"
Hi Pam!! First, the honorary is called the "Order of the Arrow". While it centers itself around Native American ("Indian") lore, it has very little to do with Native American customs and very much with what all Americans should be concerned about: the care and protection of our lands, waters and each other through service to others. He was made a member of this worldwide honorary because of his camping habits, his desire to be of good cheer even in the middle of hard tasks, and because he is a First Class (or higher) rank. He was elected by his peers -- he was not allowed to campaign to receive this honor. This makes his recognition a special deal indeed. If you want him to do something, just remind him of his Order of the Arrow Obligation.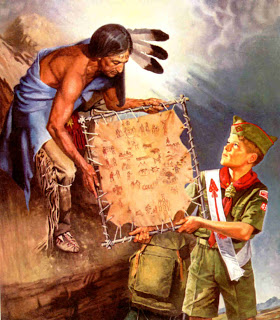 "Catch the Higher Vision" painting
Next, the three patches he received. He should have received a flap representing the Lodge in which he is now a member of. Before sewing this on, take a look at other Arrowmen in your son's Troop -- they should be wearing the same emblem. That's the one he should be wearing as well. The Lodge is "connected to" the local Council -- in most Councils, there is only ONE Lodge and everyone in that Lodge should be wearing the same or a similar emblem.
It is worn over the RIGHT pocket flap. Here's a suggestion: only sew the TOP EDGE to the pocket flap. This makes it easier for him to button the right pocket. It also makes it easier for him or you to replace it with a different flap representing that same Lodge over time (designs change; and Lodges issue or make available special flaps for local, regional and national activities or events).
Standard, activity and special OA flaps from a particular Lodge. Either of these may be worn
The large backpatch is worn either centered on the backside of a red jacket or a red jac-shirt ("jacket-shirt"). He can choose to wear this or one of several OA jacket patches -- but for best uniforming, he should wear ONLY ONE on the back of the jac-shirt or jacket. Check out the jac-shirt link above to see how that emblem would be worn on the back of the jac-shirt or jacket.
The other patch is probably an "activity flap" and he can save that to trade with someone outside his lodge or as a memory of the OA activity he participated in. He may also receive other temporary activity patches corresponding with activities he participated in as an Arrowman. Those emblems belong on a vest, jac-shirt, jacket or perhaps on the backside of his merit badge sash -- his call.
"Does he belong to a new Troop...I notice that there are numbers on the patches. Is that like a OA Troop number?"
No. Like local Councils, the OA Lodge also has a "serial number." The Lodge number is displayed on OA insignia belonging to that particular Lodge.
"And there are three Ws, one stacked on top of two others. What does that mean?"
It means that this emblem is an Order of the Arrow emblem. The "three Ws" refer to the Native American (Delaware Indian tribe) name of the Order of the Arrow and appears on just about anything relating to the BSA's Order of the Arrow. There is a deeper meaning which your son may or may not understand but which is told to him during the Ordeal. The "three Ws" may appear beside each other, or as you've noticed, one on top of the other two Ws. (if you think about it and relate it to the basic Scouting ideas... you've got the idea!)
Hopefully this will help you and others out... Your Troop should have an adult Order of the Arrow Troop Advisor and a youth Order of the Arrow Troop Representative. They can answer other questions you may have about the Order of the Arrow and its insignia. Districts also have an adult Chapter Advisor and youth Chapter Chief; and your local Council has an adult Council Lodge Advisor and youth Council Lodge Chief which can answer your questions as well. Your son's OA Lodge has a page on the Council's website with information about activities, leadership opportunities and resources. NONE of this are "deep dark secrets", however.
Thanks for asking me!!
Settummanque! (in the language of the Delaware Indian it is short for "blackeagle")
Back to the Top of this Page
This webpage is designed for printing, three-hole punching, and insertion into Your Binder!


Back to The Tree

Insignia mainpage
© 2008-2013 Settummanque!
Designed by Mike Walton


Created with the CoffeeCup HTML Editor
*Boy Scouts of America®, BSA®, the Universal Emblem, Arrow of Light®, Cub Scouts®, Eagle Scout®, Scouting®, Order of the Arrow® and all other related marks and insignia, are either registered trademarks or trademarks of Boy Scouts of America in the United States and/or other countries. All other trademarks are the property of their respective owners.*