Neckwear

All Uniform Neckwear Scouting Neckwear

Neckwear

This page indexes questions and answers, as well as displays of current and past neckwear. While these pages specifically speak to Boy/Varsity Scouting and Scouters, the pages also apply to Cub Scouting leadership neckerchiefs, Cub Scout/WEBELOS neckerchiefs, and other special neckerchiefs.

A neckerchief is not a scarf. It is a piece of triangular or square cloth, with a design or illustration, which is *part of the official uniform* of Scouting.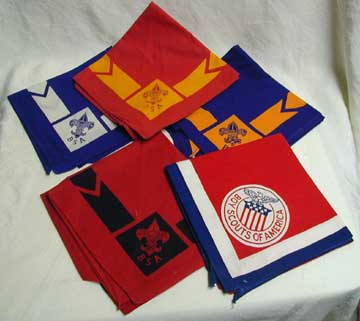 There is an outstanding discussion on how the neckerchief came to Scouting which is from Lew Orens' very excellent Pine Tree Web website. If you have a few minutes, please go to his outstanding page on neckerchiefs for more information and background.
On a separate page are instructions on how to fold the neckerchief so it may be worn properly with the uniform of the Scout. These same instructions are found in all of the basic manuals in Cub Scouting, Boy Scouting, and Varsity Scouting as well as within the pages of the Scoutmasters' Handbook and the Cub Scout Leader Guide. The BSA's official Insignia (Control) Guide also has some information.
The basic rules of thumb dealing with neckerchiefs are as follows:
-- Cub Scouts and WEBELOS Cub Scouts (along with their Den leaders) wear the neckerchief and neckerchief slide appropriate for their level within Cub Scouting: an orange and black neckerchief for Tiger Cub Scouts; a yellow and blue neckerchief for Wolf Cub Scouts; a light blue and dark blue neckerchief for Bear Cub Scouts; and a WEBELOS plaid (yellow, red and green plaid) neckerchief for WEBELOS Cub Scouts AND their adults. It is important to note that adults working in WEBELOS Dens wear the same neckerchief as youth members except there's a gold braid around the adult neckerchief.
Examples of those neckerchiefs are shown on a separate page. Other adults in the Pack (the Cubmaster and Assistant, for instance, along with other Pack volunteers) can wear the Cub Scout Leader neckerchief as shown below.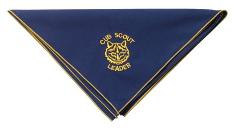 Cub Scout leaders' neckerchief (Den Leaders should wear the neckerchief of their Cub Scouts)
-- Neckerchiefs for Boy Scout Troops and Varsity Scout Teams are a UNIT OPTION. There is no such thing as an "official BSA neckerchief", because as one can see from the above image, there are various types of neckerchiefs representing different types of events, activities and programs. Therefore, each Boy Scout Troop or Varsity Team chooses first whether or not they will wear a neckerchief (and they should be encouraged to do so!). Once they decide on wearing one, the Patrol Leaders' Council or the Varsity Team's leadership determines the style (one color, two color, three color; screened or embrordered; with or without a patch, etc.) and colors (every color under the rainbow and just about every combination is available).
-- ALL members in a Troop or Team (to include adults!) wear the SAME NECKERCHIEF DESIGN with THREE exceptions:
"Learners" participating in the Wood Badge training course wear the "learners' neckerchief" as shown below, but ONLY during the period in which they are participating in the Wood Badge course (in other words, until they receive their Wood Badge).

current Wood Badge learner's neckerchief
Yes, those who have earned the Wood Badge should WEAR THEIR UNIT'S NECKERCHIEF WITH THE BEADS AND WOGGLE (a separate page explains why this is so....);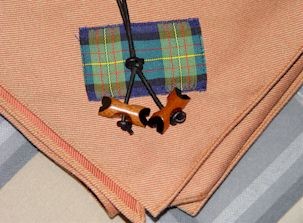 Wood Badge beads and neckerchief
EAGLE SCOUTS have the option of wearing either the white linen National Eagle Scout Association neckerchief OR the blue Eagle Scout neckerchief instead of the unit's neckerchief upon earning Eagle;

National Eagle Scout Association (NESA) neckerchief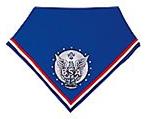 optional Eagle Scout neckerchief
and if your local Council has a special neckerchief which is to be worn by camp staff, honor units or as a recruiting gift, Scouts and Scouters may choose to wear it instead of their unit's neckerchief.
-- ALL PARTICIPANTS ATTENDING A NATIONAL JAMBOREE OR WORLD ENCAMPMENT/JAMBOREE WEAR THE OFFICIAL YOUTH OR ADULT NECKERCHIEF FOR THAT ACTIVITY FOR SIX MONTHS PRIOR TO, DURING THE ENTIRE EVENT (including travel periods) and SIX MONTHS AFTER the event is over. Afterwards, they need to return wearing their unit's neckerchief.
Non-unit individuals (Commissioners, district/council committee members or officers, and professionals) may choose to wear a neckerchief or not to wear a neckerchief at their option, keeping in mind the Wood Badge neckerchief (shown above) is worn by non-unit Wood badge holders by default. Commissioners may wear the Commissioner neckerchief optionally as explained on a separate page.
Individual pages explain each element found here:
Wearing ties with the Uniform
Neckerchiefs and long sleeved shirts
Wearing the Wood Badge with (other) Neckerchiefs
How to "fold" the neckerchief for wearing
The Kente Cloth Neckerchief
Over or Under the Collar?
Cub Scouting neckerchiefs
Commissioner neckerchief

Settummanque!
Back to the Top of this Page
---
Credits: Scans courtesy of Mike Walton



This webpage is designed for printing, three-hole punching, and insertion into Your Binder!





Back to The Tree

Insignia mainpage
© 2009 Settummanque!
Designed by Mike Walton


Created with the CoffeeCup HTML Editor
*Boy Scouts of America®, BSA®, the Universal Emblem, Arrow of Light®, Cub Scouts®, Eagle Scout®, Scouting®, Order of the Arrow® and all other related marks and insignia, are either registered trademarks or trademarks of Boy Scouts of America in the United States and/or other countries. All other trademarks are the property of their respective owners.*