Insignia
AdultUniformNeckwearWood Badge
Wearing the Wood Badge

with (Other) Neckerchiefs
Hey Dee!!
You wrote and asked me for clarifiication:
I need clarification on the wearing of Wood Badge regalia because the Insignia Guide isn't clear on this. Can the Wood Badge beads and woggle be worn with a neckerchief other than the Wood Badge neckerchief?
It SHOULD....read on....
Can the beads be worn without the woggle and a different neckerchief?
It MAY...read on...
Bottom line, when it is appropriate to wear the beads - with or without the other parts of the official Wood Badge regalia. I know that the beads can be worn alone with the scout uniform, but never with a t-shirt, but need clarification on the questions above.
Here it is. The source for this information is from the BSA's Volunteer Training Associate Director from 1999; this information has not changed since and won't change as you'll read why.
The Wood Badge is the one training accomphishment shared and mutually accepted by all members of the World Organization of Scouting Movements (WOSM). It is designed for wear with a neckerchief and slide (or woggle). In other countries it is typically worn with a neckerchief or scarf and some sort of holder with very few exceptions.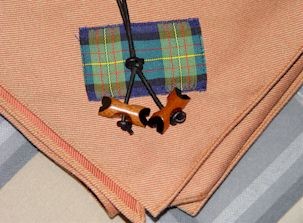 Wood Badge beads and neckerchief
The Wood Badge was and is designed for wear by those volunteers and professionals who have completed both parts of the course and forever afterwards, as an outward symbol of service and training. The Wood Badge, as you stated, is NEVER worn without the official uniform of the BSA -- until 1998, it could be worn with a BSA blazer, but when the BSA "mothballed" the blue blazers in 1999, the Wood Badge could no longer be worn with a blazer. The blazer has returned, but still the actual Wood Badge is not permitted to be worn with the blazer.
It is not worn with a tee-shirt - even a camp or Jamboree tee-shirt. The Wood Badge is also not worn with the "activity uniform shirt" (the open-neck polo shirt)or any of its options. In those cases, there is a small Wood Badge tie-tac/lapel pin which is more appropriate to wear with those uniforms. Sea Scouters who wish to wear the Wood Badge while above vessels may also opt to wear the small Wood Badge lapel pin centered on the left pocket flap (or if the Sea Badge is worn, to the left the Sea Badge so that the two badges are centered on the pocket flap).

Wood Badge lapel pin
(there is an UNOFFFICAL Wood Badge "knot emblem" made for Sea Scouters; its' wearing must be approved by your Council's Scout Executive and Commodore before wearing).
The Wood Badge is acceptable to be worn correctly with ALL complete uniforms -- the vintage ones (before 1973), the current ones (either the "legacy" khaki-tan or the "Centennial" khaki), the Venturing kelly green or the Exploring spruce green; or the Sea Scout white or blue -- in the same manner.
Here's the rules:
- overall, the Wood Badge is intended and designed to be worn with a neckerchief and slide or woggle.
It has never been designed to be worn by itself, although in today's enviornment whereby very few Scouters wear a neckerchief -- any neckerchief -- the Wood Badge can indeed be worn alone with one of the official uniforms as shownbelow: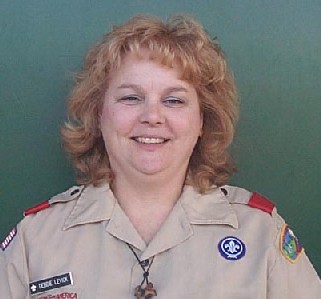 Wearing the Wood Badge by itself
- if you are a UNIT SCOUTER or if your District or local Council has an official neckerchief and/or slide, you SHOULD and are ENCOURAGED TO WEAR the Wood Badge with that neckerchief and/or slide. This is especially important for those Scouters who are serving at the unit level and whose Troop or Team has adopted a neckerchief color(s). Venturing units which have special neckerchiefs may also wear the Wood Badge with that unit's neckerchief.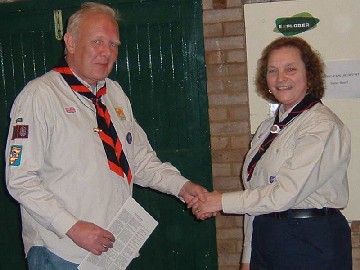 Wearing the Wood Badge with unit/district/council neckerchief
(During the Wood Badge experience, there is discussion on "keeping the group together" and part of that is "brand identity" -- the idea that your Troop has a neckerchief color combination different from ALL OTHER Troops (and Varsity Teams) in your Council.If your Troop or Team does not have a distinctive neckerchief, it is past time that you ask your Troop's Senior Patrol Leader and members of his Patrol Leaders' Council to decide on a color combination and have *everyone to wear a neckerchief and slide*).
- if you are a NON-UNIT SCOUTER, regardless of position or whether you are a professional or volunteer, you SHOULD and are ENCOURAGED TO WEAR the Wood Badge with the MacLaren tartan neckerchief and Wood Badge woggle. This is the reason why that distinctive neckerchief was created -- so that *non-unit Scouters* may wear a neckerchief with the Wood Badge as strongly recommended. When you become part of a unit, then you should wear *that unit's neckerchief*.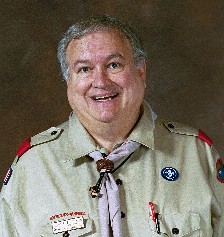 Wearing the Wood Badge by a non-unit Scouter (professional or volunteer)
- wearing the Wood Badge with special neckerchiefs (for instance, the National Eagle Scout Association's white neckerchief; the Eagle Scout blue neckerchief with red and white borders; special Order of the Arrow (OA) lodge, section and regional neckerchiefs; the Kente cloth neckerchief; National or World Jamboree contingent or official neckerchiefs; international activity or event neckerchiefs; and special local Council or camp neckerchiefs) is also highly encouraged and recommended...either with or without the Wood Badge woggle. Again, the idea is that the Wood Badge SHOULD BE WORN WITH A NECKERCHIEF and "keeper" as it was designed.
The Wood Badge should always be displayed IN FRONT OF the neckerchief. If worn formally with pendant-type awards, the Wood Badge should always be displayed in the front of those awards if all possible.
Oh, and just because people ask me this a lot: it DOES NOT MATTER which side the "two beads" and the "single bead" is worn on in the case of those Scouters wearing the three-bead necklace. It is completely up to the Scouter, although most Scouters opt to wear the two-beads on their left side as wearing it simply because "it's closest to the heart". There is absolutely NO POLICY, NO INSTRUCTION and NO GUIDANCE other than "tradition" which states this...it has been passed downward from Wood Badge holder to Wood Badge holder. It doesn't matter which side....*smiling*


It does not matter which side the two-beads are on...
Dee wrote as a followup:
Ok, just for clarification. We have a scouter who is also a Commissioner, can the beads be worn with that neckerchief?
Yes, if the neckerchief is one which all Commissioners in your District or Council wear.
(Dee was referring to the BSA Commissioner neckerchief, shown below:)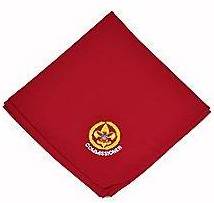 Hope this helps out...thank you very much for asking me! It's a great question!
Settummanque!
Back to the Top of this Page
---
Credits: Scans courtesy of Mike Walton; photos were obtained from various local Council websites with permission from the webmaster of those sites; THANK YOU for sharing those excellent examples with all of us!



This webpage is designed for printing, three-hole punching, and insertion into Your Binder! or a similiar binder/notebook.





Back to The Tree

Badge and Uniform Site mainpage
© Settummanque!
Designed by Mike Walton


Created with the CoffeeCup HTML Editor
*Boy Scouts of America®, BSA®, the Universal Emblem, Arrow of Light®, Cub Scouts®, Eagle Scout®, Scouting®, Order of the Arrow® and all other related marks and insignia, are either registered trademarks or trademarks of Boy Scouts of America® in the United States and/or other countries. All other trademarks are the property of their respective owners and are used with no malice intended.*
Rose Walton™ owns the trademark/servicemarks to Leaders' Online™,"blackeagle™" and "Settummanque!" Mike Walton owns Rose Walton™