Insignia

All Uniform Left Front Year (Tenure) Pins

Year (Tenure) Pins

(From Scouts-L youth programs mailing list)

Mike Walton
---
Over the last 20 years, I have fielded and responded to email concerning the type, usage and who exactly wears the tiny pins which are worn with colorful backings above the left pocket (and above any square knot insignia) of ALL program members (not just youth nor not just adult members; not just volunteers but also professional Scouters).

Officially the pins are called "tenure pins". We - you and I - call them "year pins". They are also called "service stars".

This page is separated into several parts dealing with the colorful pins. I will do my best to explain fully what they are, who wears them, where they are worn, and some historical data.
---
What are they? What do they look like?
The Boy Scouts of America currently has FIVE CATEGORIES of service which "qualify" for wearing a tenure pin:
Year Pin
Backing Color
Worn by
Yellow *see note below*
Cub Scout (representing YOUTH tenure as a part of the Cub Scout program (Tiger Cub Scout, Cub Scout, WEBELOS Cub Scout))
Green
Boy Scout (representing YOUTH tenure as a Boy Scout)
Brown
Varsity Scout (representing YOUTH tenure as a Varsity Scout)
Red *see note below*
Venturer/Sea Scout (representing YOUTH tenure as a Venturer or Sea Scout;
may also represent YOUTH tenure as an Explorer or Sea Explorer before 1999)
Light Blue
Adults (representing TENURE within ANY PROGRAM as an adult volunteer
or professional; or TOTAL TENURE as a registered member of the BSA).
BSA Service/Tenure Stars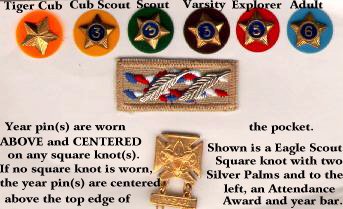 The colors correspond to the program in which they have been associated with; green has been used for Boy Scouting since the earliest days, which is why that color instead of red (for Exploring/Venturing) has been chosen for Boy Scouting. Yellow, and not light blue, is used for Cub Scouting because of the yellow (gold) piping used on the earlier uniforms. Light blue is traditionally associated with the local Council (the first Council flags were lighter blue).
The first backings were made of colored felt representing the various program divisions. It was around 1950 or so that the first plastic backings were made available. Older uniforms showing up at places like Goodwill™ may have the older felt backings.
Also prior to 1960, year pins were designed with the *actual number of years* (e.g. "27" instead of separate "20" and "7" year pins) designed for Scouters to wear to denote total number of tenured years. Those year pins, if one can still find them, are still valid to wear with the appropriate (light blue) backing by adults.

Example of year pin with total number of tenured years (rare but still okay to wear)
NOTE:
| | |
| --- | --- |
| If a youth member served as a Tiger Cub Scout between 1997 and 2001, he may wear a separate 1 year pin with an ORANGE backing (representing the Tiger Cub primary color) in addition to his Cub Scout year pin; the BSA still stocks the backings as a special order item ordered through the local Council | If a youth member served as a member of the older Exploring or Explorer Scout programs, he or she may wear a year pin with RED backing (the same as Venturing/Sea Scouting youth member backing). In SOME extreme cases, a youth could wear TWO separate year pins with red backing -- one representing his or her tenure as a member of the older "Contemporary Exploring program" and the other as a Venturer or Sea Scout |
Participants in the Learning for Life programs, including the Learning for Life/Exploring program, DO NOT WEAR TENURE/YEAR PINS representing that tenure with the BSA official uniforms. This is because the BSA views the Learning for Life/Exploring program as NOT PART of the "uniformed programs of the BSA". Sorry.
---
Wearing Year Pins
Hi Hope!
You wrote and asked me: "Iím hoping to contact someone that can help with information on how Youth are to wear service star pins. I have read (several times) the information on your website about this. I have some folks in our troop that believe a scout can combine his years of service in cubs and scouting and wear one combined pin."
Nope. That's incorrect...each program has it's own backing, so to combine Cub and Scout years into one year pin, is not placing the wearer with their "current status" in the program.
"For example, if a youth was in Cub Scouts for three year and has been in Boy Scouts for two years, he can wear a 5-year pin. After reading your website, I would say the answer in no."
He should be wearing a three year service star with a yellow backing to represent his three years in Cub Scouting; and a two year service star with a green backing to represent his two years as a Boy Scout. He wears them side-by-side above his left pocket but below the World Crest emblem.
You're correct, Hope -- he wears two separate year pins.
ONLY ADULTS have the option of wearing one (or two) year pins representing total tenure OR wearing separate pins representing his or her Cub Scout, Boy Scout, Varsity Scout, Venturing/Sea Scouting (and Exploring, if he or she was a former member of the old Exploring program before 1999) and adult service.
Adults and Scouts/Venturers whom were Tiger Cubs as a youth have the PERSONAL OPTION of either:
wearing the single year pin with the orange backing and another single year pin representing his Cub Scout service OR

a single year pin with the total number of years spent as a Cub Scout (to include the one year spent as a Tiger Cub Scout);

The Tiger Cub program is now intergrated into the Cub Scouting program and is no longer a separate program division. As a result, the orange backings will continue to be available until around 2012 through the BSA's Supply Group.

-----------------------------------------------------------------------

Hi Amy!

You wrote and asked me:

Mike - excellent page about service stars. My question that I can not find in writing anywhere is how many service stars are allowed. Some have heard - only one star at a time and other heard - the highest rank per level (cubs, scouts, varsity, explorer & adults)

Not the "highest rank," Amy, but the "highest year in each program" (Cub Scouting, Boy Scouting, Varsity Scouting, Venturing or the old Exploring program, and adult service). Each program has a color backing corresponding to that program and the youth or adult wears the HIGHEST TENURED YEAR PIN in that program.

One of the axioms of Scouting uniforming and insignia policies is that "Scouts and Scouters wear insignia and uniforming representing their current status in the movement and their current status in the program they are a part of."

For instance, a Cub Scout who have earned a one-year service star, wears a one year service star with a yellow backing. When that Cub Scout earns a two-year service star, he REPLACES the one-year pin with the two year pin. He does NOT wear both stars. Same for three, four and five year pins...they are replaced with the current pin representing "the current status of the individual."


Cub Scout and Boy Scout year pins worn together
A Boy Scout who was a Cub Scout for five years wears a five year Cub Scout year pin on his Boy Scout uniform. When he earns a year pin as a Boy Scout, he wears a one-year pin with the appropriate backing for Boy Scouting. When that Boy Scout earns a two-year service star, he REPLACES the one-year pin with the two year pin.
In this case, he DOES wear two stars -- one representing his Cub Scouting experience and the other representing his Boy Scouting experience.
The same goes for those involved in Varsity Scouting, Venturing, and service as an adult (volunteer or professional).
---
How are they worn on the uniform?
Service stars are worn centered on the left pocket button slightly above the left pocket seam.
Without square knot emblems
If you wear one or more square knot emblems representing special awards, the service star(s) are worn above those knot emblems as if that became the new pocket seam.
With square knot emblems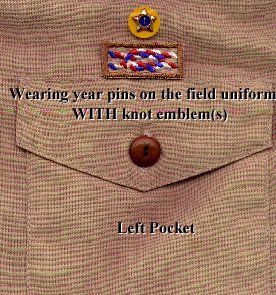 ---
How are Year Pins Awarded?
The Service star program is a UNIT PROGRAM. There are no records concerning how many service stars you've received kept at the National nor local Council levels. HOWEVER, registration data IS kept at both locations for the various Veteran Awards starting with the ten-year Veteran's card and pin awarded by the local Council and going upwards from there.
YEAR PINS SHOULD BE PRESENTED WITH THE YEAR PIN CARD. Scouters on Scouts-L complained back in the early 90s that the way we were awarding "year pins" were tacky -- basically we held them in our hands (risking losing them before awarding) or attached them to 3x5 cards. The BSA Supply Group heard our complaints and in 1996 started printing YEAR PIN CARDS like the one illustrated below.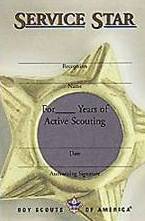 If you award a year pin, attach it to the card and present both card and pin to the Scout or Scouter! (Thanks, Scouts-L members!!)
ADULTS WEAR ADULT AWARDS AND YOUTH WEAR YOUTH AWARDS with some exceptions. This means that adults needs to wear the adult backing (light blue) with their service star if they have not been a Cub Scout, Boy Scout, or Explorer/Venturer/Sea Scout as a youth. If they did participate in Scouting as a youth, they may choose to wear the HIGHEST youth service star for each level of the program that they have participated in.
This means that if you've served as a Tiger Cub leader and later as a Cub Scout leader for three years, you would wear ONLY a four year pin with a light blue backing...NOT pins with either orange nor yellow backings, because those are ONLY for youth members.
SOME COUNCILS MAY LET FORMER GIRL SCOUT LEADERS WEAR THEIR SERVICE STARS WITH THE BSA UNIFORM. Please check with your local Council Executive for guidance. Some will allow former Girl Scouters to wear their service stars (which is of a different design and color backing than the Boy Scout service stars, so there's no confusion there) while others believe that those items belong on Girl Scouting uniforms.
Example of Girl Scout Year pin

Whatever the Council Scout Executive -- NOT the "Field Director", NOT the "Associate Scout Executive", NOT your District Executive -- but YOUR COUNCIL SCOUT EXECUTIVE (every local Council only has ONE "Council Executive" or "Scout Executive", the senior-most professional in your Council) -- says, goes, because it's THEIR call to make. Not yours.
SERVICE STARS ARE CALCULATED BASED ON REGISTRATION INFORMATION. That's the reason why they are called "service stars". They are not based on "graduation" or "movement" from one program element to another (from Wolf to Bear, for instance) nor from program to program (from Cub Scouting to Boy Scouting, for instance). Each period of service starts with the date of registration (which is why the capturing of that information is important by the UNIT) and goes for a one-year period to the following year.
(there is some consenus on the fact that since this entire thing is up to the unit to present, that those Cubs and Scouts that "advanced early than the time period" (for instance, earned the Arrow of Light two months before the end of their fourth year as a Cub Scout; or has six years and eleven months' tenure as a Boy Scout at age 18) to be presented and to wear the service star for the following year. That's a UNIT'S CALL)
EITHER THE "NO NUMBER" or the "NUMBERED" SERVICE STAR MAY BE USED AT THE INDIVIDUAL'S OPTION. The original service stars were unnumbered, and required the wearer to wear multiple stars to combine and represent the lenght of service. In 1946, the BSA went to using service stars with numbers in the center and small felt backings (later to be replaced by more durable plastic backings) to represent the year of service, program, and to reduce the amount of pins worn on the field uniform. Either is acceptable; it's the backing and the number that matters more than anything.
(and if you're lucky enough, some local Councils still have numbered year pins between 11-19 and between 21-29 in their bins!)
Old year pin (left); Present year pin (right)
Ev Holm reminded me that I've left out one part of the Service Star guidelines:
Saw you post on Scouts-l. Good explanation. But I think you missed one of the adult options (sorry I don't have my Insignia Guide next to me) where an adult has YES, the option to wear the appropriate color backgrounds for their youth service. But they also have the option to combine ALL adult and youth service and wear ONLY the light blue Scouter's service star background.
For example, I could wear service stars in one of the 2 options:
Two Ways to Show Tenure
Option A:
Option B:

3 yr - yellow background (Cub Scouts)
7 yr - green background (Boy Scouts)
2 yr - red background (Explorers)
14 (10+4) yr - light blue background (Adult service)

26 yr (20+6) - light blue background (ALL service)
and Russ Jones also made me.....
....yell AWWWW MAN!!, here...thanks for the reminder, Russ!!
Excellent explanation, except that one cannot wear a single service star to indicate more than 10 years of service. Since the stars only come with the numbers 1 through 10 and multiples of 10 thereafter, two separate stars (a 10 and a 5, in your example) are required to indicate years of service in excess of ten, except when the total is an even multiple of ten.
(We don't know of such a person presently, but there IS the possibility that a 110 or older tenured Scouter may exist; in that case, that person would wear *three* year pins -- an 100 year one, together with two other pins to denote the years in excess of ten.)
There are year pins available for:
1, 2, 3, 4, 5, 6, 7, 8, 9, 10, 20, 30, 40, 50, 60, 70, 80, 90 and 100 years of service
There are Veteran pins (which are NOT worn on the field uniform, but may be worn as a tie-tac or tie bar) for :
10, 20, 25, 30, 35, 40, 45, 50, 55, 60, 65, 70, 75, 80, 85, 90, 95, 100 and 110 years of tenure.
Year and veteran pins ABOVE 50 years must be purchased through your local Council whom must obtain them from the BSA's Supply Division upon approval.
Of course, this is only applicable for indicating adult service or for indicating the total of all youth and adult years, since it is not possible to remain in any one division of the program as a youth for as much as ten years (except, of course, in the case of those Scouts who are not subject to the age limitations due to a physical or mental challenge).
Finally, SERVICE STARS ARE WORN AT THE OPTION OF THE WEARER. There's nothing that says that you HAVE to wear them; but if you do decide to do so, wear them properly and with pride.
---
One other note about the service stars: COMMISSIONERS and other leaders are responsible for insuring that we adults and our youth wear the service stars correctly and in the appropriate location on our uniforms. I always buy a pack of 12 Cub, Scout, Explorer, and adult backings ($1.20 a package) from my local Council's service center before I go to camp or off to some event that has "high vis" all over it. When I see a Scout or Scouter with the pin in the wrong place, I politely ask their permission to either add the backing (the most typical problem) or to repin it in the right place. Know what I hear more than anything?? "I didn't know it *goes* there....I was pinned on the pocket" or "on the shirt" and I just thought it belonged there!"
The Service star has been used since our earliest days in Scouting. It's an important part of uniforming, and all units should be using those pins to recognize adult and youth tenure in the Boy Scouts of America and the Girl Scouts of the USA's programs. It's inexpensive to purchase and the rules are fairly simple to follow.
Thanks for the personal email...I enjoyed reading and replying to it all, and keep it coming please; but also thanks for bringing up a GREAT topic and discussion here!!!
Settummanque!
Back to the Top of this Page
---
Credits: Scans courtesy of Mike Walton.



This webpage is designed for printing, three-hole punching, and insertion into Your Binder! or a similiar binder/notebook.





Back to The Tree

Badge and Uniform Site mainpage
© Settummanque!
Designed by Mike Walton


Created with the CoffeeCup HTML Editor
*Boy Scouts of America®, BSA®, the Universal Emblem, Arrow of Light®, Cub Scouts®, Eagle Scout®, Scouting®, Order of the Arrow® and all other related marks and insignia, are either registered trademarks or trademarks of Boy Scouts of America® in the United States and/or other countries. All other trademarks are the property of their respective owners and are used with no malice intended.*
Rose Walton™ owns the trademark/servicemarks to Leaders' Online™,"blackeagle™" and "Settummanque!" Mike Walton owns Rose Walton™