> updated 17/04/11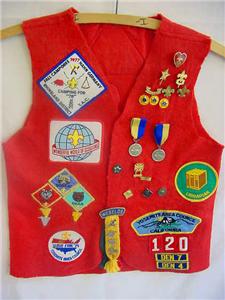 ANYTHING may be worn on the red "brag vest." Anything up to the Scout and of course his parents. So Coast Guard and Air Force patches may indeed be worn anywhere on the vest. There is absolutely NO POLICY (written or otherwise) on what could or could not be worn on the red vest. Likewise, if a Scout or Scouter is wearing a non-BSA vest or jacket, anything may be worn on it as well.
Insignia
All Uniform Right Front Interpreter Strip
Interpreter Strip
Description: Strip which displays or which has in a text form the language in which a Cub Scout, Boy/Varsity Scout, Venturer, or Scouter is familiar with. "Familiar with" is defined by several BSA publications as being able to demonstrate speaking the (sign) language for a five-minute or more period of time; being able to translate into American English that (sign) language for a five-minute or more period; and being able to read and write in that language or in the case of American or Enhanced Sign Language, being able to spell words and basic phrases.
Specificially, here are the requirements from an older version of the BSA's Boy Scouts Requirements booklet; the requirements have not changed:
Carrying on a five-minute conversation in the language
Translating a two-minute speech or address
Writing a letter in the language (does not apply to sign languages)
Translating 200 words from the written word
The requirements are verified by the unit leader, after recieving sufficient evidence of the Scout/Venturer/Scouters' ability to read/write/speak/understand the language. The unit leader or representative should note the personal achievement on the BSA Advancement Report for youth, on SCOUTNET's advancement portion or on the BSA Training Report for adults and submit to the local Council for posting. The unit leader, representative, or in the case of adults, the adult involved may purchase or order the strip and wear it on the uniform in the place shown below:
The strip is worn above the "Boy Scouts of America" strip shown here. The strip shown is for speaking German, one of the most common strips.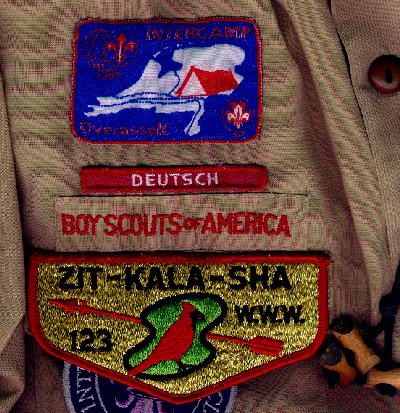 The strip is worn on the right side of the Cub, Scout, Venturer or Scouter field uniform above the "Boy Scouts of America" strip. In the case of Venturers wearing a "Distinctive Dress Identity" (DDI), it is worn as prescribed by the Post or Ship bylaws with adults wearing the strip on field or Sea Scouting uniforms as shown above.
How Do We Earn It?
Most Cub Scouts, Boy/Varsity Scouts and Venturers earn an interpreter's strip in one of three ways: Their parents speak a language in addition to or other than American English; they learn how to speak a language or how to use American or Enhanced Sign Language in school or through Scouting or other agency; or they have lived overseas in a country for several years and had to learn the language on their own.

Most adults earn an interpreter's strip by working or living overseas as part of business.

In most local Councils, there is no formal application which is to be completed. In some local Councils, a special Interpreter Strip application is made available for filing within the unit's records at the local Council.

Here are a collection of strips, provided by Don De Young (Thanks, Don!):
| | |
| --- | --- |
| | |
| Interpreter Strips | More Interpreter Strips |
Here are some other strips from my personal collection. From top to bottom, these strips represent:
Other Interpreter Strips

Sign Language
Korean
Hebrew
Japanese Interpretation
French
Southern Drawl
(note that Southern Drawl, while it may be a different language, is not considered an official BSA Interpreter Strip....however, it may be worn with approval by a Council Scout Executive)
Spainish
German
Bengali
Japanese
Norweigen (Thanks to Rolf Asphaug for the find!)

"What's the difference between the red strips and the tan strips...are the red ones for Explorers/Venturers and the tan ones for Scouts?"
Nope. The background of the strip has NOTHING to do with which program members get to wear it. The strips were originally all red, as shown below. In 1990, the BSA decided to once again try to blend the color of the various patches in with the "legacy" shirt so that from a distance, it looks like it was "pre-sewn" into the shirt. EITHER VERSION may be worn, although the red ones do stand out a bit more against the tan khaki shirts. However, the older red interpreter strips are getting harder to find since the BSA is no longer manufacturing them with white lettering on a red background.
"How do you get a strip for a language that's not common, like Russian or Croatian"??
The BSA's Supply Group maintains strips on 54 languages, I'm told. If your local Council does not have a particular language, they can request two from the BSA's Supply Group at the National Office, local Councils that have significant numbers of youth representing that ethnic group, or from the Direct Service, which maintains in their office suite within the National Office some 54 or so interpreter strips from languages around the world.
If the language is not available, the Supply Group will authorize a local Council to order it as long as the Scout or Scouter is willing to pay for the strips. The strips run currently about $2 per strip.
In 1990, the BSA changed the background and text color of the strips from the red and white strips to a khahi-tan and red strip to better blend into the Boy/Varsity Scout and Scouter field uniform. Either strip may be used and worn, as long as it is worn in the same location shown above. Additionally, there is no prohibition on wearing more than one (however good uniforming suggests that Scouts and Scouters keep the number of strips worn to no more than three on a uniform shirt).
Because the Boy Scouts of America is located within the United States, there exists no "American English" strip; I have seen ONE "British English" and one "Queens' English" (with the word "English") strip before...if you have one, I would love to trade you for it.
There are other languages with Interpreter Strips...if you have one, and don't mind sharing it with me and everyone around the world, please post me and tell me about it. I'll add it here and credit you with the submission.
The Interpreter strip is an important communications award for Scouts, Scouters and Explorers. For many, it represents a closer tie with their family and heritage. For some, it gives an additional form of service at the community, local Council, and National levels, for many interpreters are requested by community service agencies, by local Councils and by the BSA to work at special events, encampments and programs. It is not a "gimme" award but something that each person wearing the strip should be proud of.
Of course, when the Scout or Scouter feels that they can no longer understand or speak that language satisfactory, they should remove the strip and save it as a personal memory item. It does nobody any good at all when a person speaking German comes to you and you cannot understand them clearly enough to understand that they need emergency help or that they require assistance in some other way! This is why even though I have earned a Sign Language strip in the middle 80s, I do not wear it on my field uniforms because I feel that I am not strong enough as an American Sign Language (ASL) interpreter.
Settummanque!
Back to the Top of this Page
---
Credits: Scans courtesy of Mike Walton unless noted. Thanks to those who have enhanced my personal collection as well as the visual display here by sharing their strips with me.



This webpage is designed for printing, three-hole punching, and insertion into Your Binder!





Back to The Tree

Insignia mainpage
© 2008 Settummanque!
Designed by Mike Walton


Created with the CoffeeCup HTML Editor
*Boy Scouts of America®, BSA®, the Universal Emblem, Arrow of Light®, Cub Scouts®, Eagle Scout®, Scouting®, Order of the Arrow® and all other related marks and insignia, are either registered trademarks or trademarks of Boy Scouts of America in the United States and/or other countries. All other trademarks are the property of their respective owners.*