> updated 22/04/09

The BSA has set a limit of five medals which can be worn on the pocket of the uniform shirt; personal modesty suggests (but is NOT a BSA policy or guideline) that you wear no more than five "necklace-type" medallions (not including the Wood Badge) at one time.
Insignia
All Insignia Left Front Wearing Military Medals
Wearing Military Medals
This page addresses wearing military award medals in general. There are specific pages which address wearing the Eagle Scout Medal with military uniforms and the Military Outstanding Volunteer Service Medal with Scouting uniforms.
As a general rule, medals and other awards (patches, pins, belt loops) given or awarded to Cubs, Scouts, Venturers/Sea Scouts and their adult leaders (volunteer and professional) should not be worn until consulting with your Council's Scout Executive (no, your "DE" or local executive will NOT work -- they don't have authority to let you wear those items -- only the Council Scout Executive has that authority and he or she cannot delegate it to anyone else per BSA regulations and policy).
Even so, medals and medallions are worn only during formal events or activities and is always worn when officials or leaders of that organization is present. For instance, if you are a holder of a labor union award in addition to the Meany Labor Relationships Award, you should wear both awards at union conferences or meetings whereby you are there as a BSA member. Other times, you should only wear the Meany Award square knot emblem with your uniform.
With the exception of unit patches, cloth crests or cloth shields which can be worn one at a time centered on the right pocket of the Scout or Scouter's uniform shirt, NO military badge, award, pin, branch or service insignia, device, or medal will be worn with the official unforms (to include Venturing "distinctive dress identity" (DDI) ) of the Boy Scouts of America. There IS an exception for Venturing "re-enactment" Crews which should be in period uniforms including the military insigina .
---
The first days of the BSA:
In the first days of the BSA, Army and Navy ribbons and decorations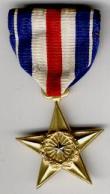 (a "decoration" is a commendation, performance, or valor award (like this Silver Star, shown right) granted under the name of the President, the War Department (Defense Department today), or the services's secretary) were allowed to be worn with the official BSA uniform of the day. The wearing of such insignia gave confidence to youth members and their parents that "someone of quality" was instructing their sons in the craft of Scouting. This was done away with in 1939 by action of the BSA's National Executive Board. As a part of this action, the BSA did allow for ONE such medal or award -- typically the highest personal decoration or service medal -- to be retained by former military to wear with the uniform. The medal's ribbon can be worn alongside the BSA's newly established square knot insignia a few years later.
The CURRENT POLICY - take 1:
In 1972, the BSA's National Executive Board established the policy which is still in force today: NO military insignia, excluding patches which could be worn as a temporary emblem centered on the right pocket, are to be worn with the BSA's uniform. There were some exceptions. One exception called for military-style rank badges ("Commander", "Sergeant", etc.)
to be worn with Exploring "Distinctive Dress Identity" or DDI. Another exception was that the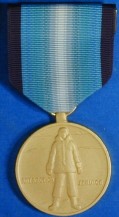 Law Enforcement and Sea Exploring ribbons could be worn above square knot insignia on the BSA's Explorer and Sea Explorer uniforms. Finally, another exception was for the Antartic Service Medal (shown right), which was awarded through the National Science Foundation to a Scout or Explorer who was selected and participated in a BSA-promoted several-month research trip to the South Pole.
Someone (it was NOT the NSF, according to their Scouting liaison person) created a square knot so that those few holders could be recognized informally. The BSA did NOT approve this, but several former participants in the South Pole Expeditions did wear the unofficial square knot insignia.
The CURRENT POLICY - take 2:
In 1978, the BSA's National Executive Board, as part of the "Return to Scouting" theme which was going through the Boy Scouts of America during the middle 70s, officially did away with military-style rank, ribbons, and other devices that "look like we're running an Junior ROTC program" instead of a Scouting program. The Board again through the Chief Scout Executive informed local Councils that "military medals are not allowed to be worn with the BSA uniform". Scouts and Explorers were told that while they may receive awards from outside organizations, they cannot wear them on the BSA's official uniform -- even during formal occasions.
In 1991, as military members proudly returned from Operation Desert Storm, many of those desired -- and did -- wear their Bronze Stars (shown left), their services'
Commendation or Achievement Medals, and other decorations with their Scout uniform. Their justification was that "we're proud of our service and the kids should see what those medals look like..." The BSA didn't buy it, and a memorandum sent to the field reaffirmed the BSA's policy on wearing military insignia, medals and rank badges with the official BSA uniforms. Several military Scouters appealed to the Chief asking for exception based upon their military service but the Chief Scout Executive said "no", adding that in the current enviroment, Scouting must remain separate from military preparation programs like JROTC in high schools and ROTC in colleges and universities. There were notices in "SCOUTING" magazine as well as a separate mailing to volunteers who served as members of the then-Direct Service Council.
The BSA DID bend a bit: they produced a special "We Support the Troops" emblem to be worn on the right pocket of uniforms along with teeshirts, hats and other items and made the "We Support The Troops!" program a national program emphasis; they re-established the Gold Star program for the display of special insignia on unit and Council flags to signify the death of a volunteer, member or former member of Scouting units; and featured military Scouters and their personal accomphishments within their national publications.
MOVSM:
The Defense Department, acting partly as a tip of the hat to the BSA and other volunteer organizations and partly to stem the tide of service commendation and achievement medals going to servicemembers for "participating as a staff member at summer camp for one season" or "serving as Commissioner for a military community", created the Military Outstanding Volunteer Service Medal, or MOVSM (shown right).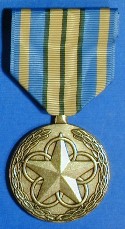 Among the first reciepients of the MOVSM were indeed Scouters who had served on the BSA's task force supporting the just-concluded National Scout Jamboree. As the number of these awards increased, the BSA was faced with going back on their policy of "no military awards on the uniform" as opposed to allowing Scouters to wear the new medal alongside their Silver Beaver or Scouters' Training Award. The BSA held off on the decision for almost six years before establishing the Community Organization Award certificate and square knot insignia.
General questions about the MOVSM and Scouting:

"Is this the military's way of honoring Eagle Scouts since the Eagle can't be worn on the military uniform?"

No. It is NOT a medal to be given to Eagle Scouts or Gold Award Girl Scouts. It is a service medal given for exceptional volunteer service over a period of time as part of a servicemember's role as part of a military community.

"How do I get it? I mean, I was a Scoutmaster with a Troop overseas and..."

You don't get it just because you were a Scoutmaster on or offbase somewhere...the award is a military award and depending on your branch of service, there are other requirements and in some branches a minimal period of service. And you have to be nominated -- it's NOT an "automatic award".

"So what's the difference between this and the "Community knot" that the BSA provides?"

The MOVSM is one of seven or eight awards which QUALIFIES a volunteer for the award of the BSA Community Organizations Service Award, which is a certificate *and square knot emblem* which represents the award. You don't have to receive the MOVSM to get the Community Organizations Service Award. But you cannot get the Award (and wear the square knot insignia) without receiving the MOVSM or one of the other awards first.

"And I can wear the MOVSM on my Scout uniform with other medals at our Council Annual Dinner where the General in charge of (whatever) is there, right?"

Nope. You CAN NOT wear the MOVSM with any Scout uniform. It is a military award, and as such, goes on your military dress uniform. Same for the ribbon -- it does NOT go on the BSA uniform at all...it is something only for the military uniform.

"I don't care. I've earned this medal for working with the Scouts all of this time and there's no silly website that's going to tell me that I can't wear it on my Scout uniform. Where does it say in writing that I can't wear this medal on my Scout uniform?"

Ask your Scout Executive. He or she was sent two memos from National in the past four years explaining that the MOVSM (and other military medals) are NOT to be worn with the BSA uniform. That's where the policy comes from. Future editions of the Insignia Guide I'm sure will also have this information as well.
The intent is not to keep you from showing your patriotism or pride in what you did while in the service to support Scouting but rather to keep that line separate between those awards which are military in nature (like the MOVSM, which can also be awarded for service to military child care programs, library programs, youth sports programs, and other morale-welfare-and community services) from Scouting awards (the Community Organizations Service Award can only be awarded for service to SCOUTING through that organization.) Being an officer of the American Legion or VFW; or being a member of Alpha Phi Omega, Elks, or Masons isn't enough. The award must clearly show you have rendered support and service to the Scouting programs in your community.

And today:

In the starting months of the current War in Afghanistan and later in Iraq, Scouters returned home with Purple Hearts, Bronze Stars, and service decorations and some of them wore their highest decoration with the Scouting uniform, citing the earlier versions of the BSA's Insignia Guide which stated that "one such military decoration" may be worn and not seeing anything else in print. The BSA responded to Scout Executives' inquries by once again sending an "all hands" memo to the field and encouraging local Councils to spread the word that the wearing of military decorations and awards on the BSA's field uniforms is not acceptable.

This same policy extends to military volunteers who receive the Department of Defense's Military Outstanding Volunteer Service Medal (MOVSM) for their work with Scouting groups in Afghanistan and Iraq -- one can receive the medal in their military capacity, but the medal CAN NOT be worn on a BSA uniform even though the service rendered was to the BSA or other nation's Scouting associations.

Most recently, during the 2001 National Scout Jamboree, members of the Army Adventure Area gave away branch insignia "disks" normally worn by enlisted Soldiers
for participating in various exhibits as participants or guests during that Jamboree. Many Scouts returned home wearing the insignia on their collars, rightfully so stating that they were "awarded these" and since it was awarded at the Jamboree, they could wear them on their uniform. Both the BSA and the United States Army had to produce releases and information material which stated that they were only intended as promotional items, that only Soldiers can be "awarded" military insignia, and that the disks and other items were purely promotional items in connection with going to and participating at the Army Adventure Area.
More on wearing military medals on Scouting uniforms (and wearing BSA awards on military uniforms)
Bottom line: with the exception of unit patches, cloth crests or cloth shields which can be worn one at a time centered on the right pocket of the Scout or Scouter's uniform shirt, NO military badge, award, pin, branch or service insignia, device, or medal will be worn with the official unforms (to include Venturing "distinctive dress identity" (DDI) ) of the Boy Scouts of America. There IS an exception for Venturing "re-enactment" Crews which should be in period uniforms including the military insigina (a "Scouter's (Common) Sense" exception if one asked *me*).
An enterprising young man developed a square knot for military Scouters who earned their services' acheivement medal or higher during the "War on Terror" but was told that the insignia would not be allowed on the BSA's uniforms and to stop providing the knot emblem. If you are still around, Kevin Davies, please send me a scan of the knot emblem so if nothing else I can add it to these pages to provide a more complete history. My understanding was that the knot emblem is a yellow square knot on a dark blue background with red border.
Settummanque!
Back to the Top of this Page
---
Credits: Scans courtesy of Mike Walton



This webpage is designed for printing, three-hole punching, and insertion into Your Binder!





Back to The Tree

Insignia mainpage
© 2009 Settummanque!
Designed by Mike Walton


Created with the CoffeeCup HTML Editor
*Boy Scouts of America®, BSA®, the Universal Emblem, Arrow of Light®, Cub Scouts®, Eagle Scout®, Scouting®, Order of the Arrow® and all other related marks and insignia, are either registered trademarks or trademarks of Boy Scouts of America in the United States and/or other countries. All other trademarks are the property of their respective owners.*