Insignia
All Programs Jacket Vest Scout Vest
(Red) Scout Vest
Arthur and Connie are the two most recent folk to ask me about something they both feel the BSA needs:
(From Arthur:) My son has been in Scouts since he was a Cub and has received a boxfull of patches for participating in various things over the years. The BSA rules say that one of these patches can be worn on the shirt, but we've seen Scouts with like two or three additional patches on different places and on the back of their merit badge sash. Do Cub Scouts wear merit badges sashes? If not, how do Cub Scouts wear all of those things they get -- more importantly, how do Boy Scouts wear all of their patches and things they earn?
(From Connie:) Our son is involved in Scouts -- he is a Star Scout. Since he joined, he took part in three summer camps, went to Philmont and was an alternate for the last Jamboree. He's received a lot of patches over the four years and wants to know if he can wear them on the red jack-shirt you and others talk about here. If he cannot, where else does he wear them?'
First Art and Connie, temporary insignia (like those received/earned for going to camps, activities at the Council or District level, and other similar things) can be worn on the backside of the merit badge sash. Only Boy Scouts and Varsity Scouts wear merit badge sashes. Cub Scouts do not wear them, nor do Venturers. This page explains what kinds and where they are worn on the back of the sash.
These emblems can also be worn anywhere on personal jackets or on the BSA's jac-shirt. For best uniforming, they should be worn below the large emblem on the center of the jac-shirt if one wishes to wear them there; however there is NO RULE OR POLICY which prevents you from sewing those emblems *anywhere* on the back (or front for that matter) of the official jac-shirt.
However, most Scouts and Scouters wear those tempoary patches, along with old Cub Scout insignia and old Boy Scout insignia, to include pins and medals, on a patch vest. The BSA makes a youth and adult patch vest in red; at one time there was a "make your own patch vest" in olive green which the BSA also sold. They do not sell the kits any more.
Example of red Scout vest (front)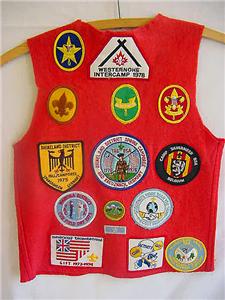 Example of red Scout vest (back)
Cub Scouts do not wear merit badge sashes. Any temporary emblems, badges or pins should be attached to a (preferrably red) vest or jacket. Badges and emblems received as well as previous rank emblems and pins can be worn either on the front or back of the vest or jacket. Temporary insignia may be sewn. "Temporary insignia" is defined by the BSA as special insignia for participating in unit, District, Council or national events or programs. The Cub Scout Academic and Sports program letter may also be worn on the front or back of the vest or jacket.
You can have a red (or any other color...red was chosen as the BSA's primary color back in the late 50s...but there is nothing which prevents one from having a green, yellow, or even blue vest. As a matter of fact, the BSA made a blue fleece vest in the early 2000s and you could get lucky and get a large or extra large one from the BSA's Supply Group and apply patches or other items to it as you desire.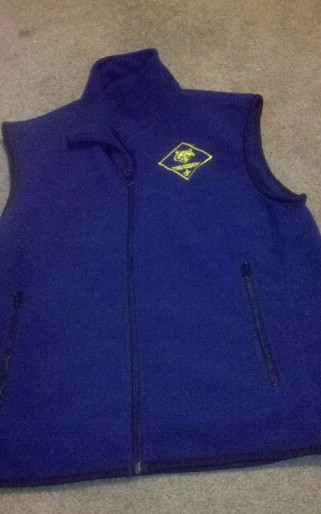 Cub Scout fleece vest
Adults can also wear a patch vest, and many adults do. Patch and other insignia placement is up to the individual. I own several vests in different sizes -- what I have done is went to Goodwill (tm) or Salvation Army (tm) and buy a vest which fits themselves -- it does not have to be red, although it is a nice color to contrast with all of Scouting's field uniforms. Just be careful in attaching or sewing items which you or others may deem as "valuable" or "important" to the vest.
Here's an example of an adult's vest. The adult purchased the red vest from a Goodwill (tm) store and attached the insignia representing his Boy Scouting and Exploring experiences to the vest.
Example of red Scout vest (front)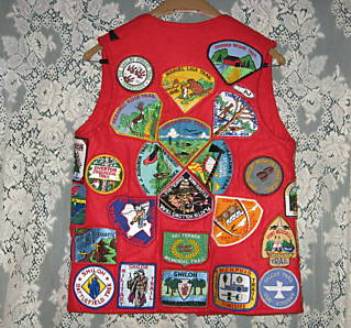 Example of red Scout vest (back)
Settummanque!
Back to the Top of this Page
---
Credits: Scans courtesy of Mike Walton



This webpage is designed for printing, three-hole punching, and insertion into Your Binder!





Back to The Tree

Insignia mainpage
© 2009 Settummanque!
Designed by Mike Walton


Created with the CoffeeCup HTML Editor
*Boy Scouts of Americar, BSAr, the Universal Emblem, Arrow of Lightr, Cub Scoutsr, Eagle Scoutr, Scoutingr, Order of the Arrowr and all other related marks and insignia, are either registered trademarks or trademarks of Boy Scouts of America in the United States and/or other countries. All other trademarks are the property of their respective owners.*