Insignia
Adult Uniform Left Side/Knot Insignia Professional Circle Training Award
Professional Circle Training Award


Professional Circle (Training) Award/Fellowship Honor Award
Description: Uniform knot emblem is composed of a black square knot on a fully embroidered white background with a black border. The symbolism comes from the administrative (executive secretarial) nature of the professional executive.
Worn by: Present and former professionals, Male and Female Scouters
Earned or Received: Earned
Application for Professional Training Award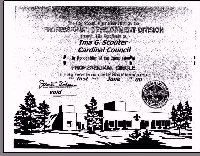 Professional Circle (Training) Award Certificate
Background: The Professional Circle (Training) Award (what was previously called the Professional Training Award) is earned by Associate District Executives, District Executives, District Executive multiple-persons, Senior District Executives, Venturing Executives, Senior Venturing Executives, District Directors, and Field Directors with supervisory responsibilities for District or Venturing Executives.
To earn the award, Scouters must have successfully attended all three sessions of the Professional Executive Institute (PEI) or the National Executive Institute (NEI), have completed or participated in five of eight training or coaching programs (including Wood Badge, Powderhorn for Venturing Leaders, and/or National Camping School), and have met all critical achievements in his or her District/Division/Council for two of the three years. The Fellowship Honor Award (the adding of the small Universal/Boy Scout device to the center of the knot emblem) is earned by completing all eight coaching or training programs, meeting of all critical achievements within all three years, and the completion of a research paper or study to be forwared to the National Executive Training Center for approval.
Rarity of Award: Rare
Settummanque!
Back to the Top of this Page
---
Credits: Scans courtesy of Mike Walton.



This webpage is designed for printing, three-hole punching, and insertion into Your Binder!





Back to The Tree

Insignia mainpage
© 2009 Settummanque!
Designed by Mike Walton


Created with the CoffeeCup HTML Editor
*Boy Scouts of America®, BSA®, the Universal Emblem, Arrow of Light®, Cub Scouts®, Eagle Scout®, Scouting®, Order of the Arrow® and all other related marks and insignia, are either registered trademarks or trademarks of Boy Scouts of America in the United States and/or other countries. All other trademarks are the property of their respective owners.*