Insignia

Cub/Boy Scout Insignia Right Shoulder Den/Patrol Medallions

Patrol/Den Medallions

The question was when could WEBELOS Cub Scouts could "identify" as a "something den" as opposed to a "numbered den".

In the two-year WEBELOS Cub Scout program, the members of the WEBELOS Den can "identify themselves" as a "something" Den ("something" meaning taking on the name of a Patrol name) anytime that the Den decides. There are more than 35 established Boy Scout Patrol names that a Den could take on:
(Full color versions of all of these and older Patrol medallions may be found on the Patrol Patch site. )
Please note that the Den is NOT limited to just those 35 names....they may call themselves the "Lazy Eights" or the "Dynamic Den of Danger" or the "Raptors". The BSA's Supply Group can and has designed special Den/Patrol medallions for those Dens (and Boy Scout Patrols) who want something to help "ID" them as their "something Den".
The Den can decide ANYTIME during the year to switch from being "Den 5" to "Liberty Den" or "Generic Den" or "Pedro Den."
Note that they are STILL called a DEN....the word "patrol" only refers to BOY SCOUT PATROLS and the Boy Scouting program; WEBELOS Cub Scouts are still in the Cub Scout program which has Dens.
Den medallions are worn on the Cub Scout uniform in the same location and same position (position 2, right sleeve) as they would be worn as Boy Scouts. The WEBELOS Badge colors may hide the Patrol medallion if worn; the badge colors are worn in the space between the US Flag and the Den Medallion (see below).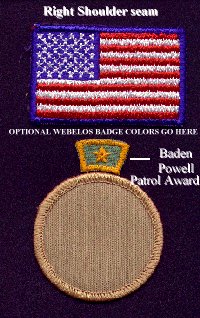 On the Boy Scout uniform, the Patrol medallion is worn on the right shoulder, position two, below the US Flag emblem with some space given for the Baden-Powell Patrol honor star(s).
The B-P Patrol Honor star is NOT earned by WEBELOS Cub Scouts.
A separate page addresses under what circumstances that ADULTS may wear a Patrol medallion. In general terms, Boy Scouters are NOT members of Patrols and are NOT youth members; therefore, they DO NOT wear a Patrol medallion.
WEBELOS Den Leaders and Assistant Den Leaders, however, ARE part of the Den and therefore they should wear the appropriate Den medallion representing their Den (the same one that the youth members in the Den are wearing).
Settummanque!
Back to the Top of this Page
---
Credits: Scans courtesy of Mike Walton. The "Rocking Chair" patrol medallion is one of several sold by a private firm called "ClassB". The emblems are the same size and design as the official patrol medallions; however, permission must be obtained by your Council's Scout Executive before wearing these nice emblems. Most Scout Executives will have no problem as long as you ask BEFOREHAND and not after the fact.



This webpage is designed for printing, three-hole punching, and insertion into Your Binder!





Back to The Tree

Insignia mainpage
© 2008 Settummanque!
Designed by Mike Walton


Created with the CoffeeCup HTML Editor
*Boy Scouts of America®, BSA®, the Universal Emblem, Arrow of Light®, Cub Scouts®, Eagle Scout®, Scouting®, Order of the Arrow® and all other related marks and insignia, are either registered trademarks or trademarks of Boy Scouts of America in the United States and/or other countries. All other trademarks are the property of their respective owners.*