Insignia <

Boy Scout Uniform Equipment Equipment Decoration

Equipment Decoration?

Hey Sean!

You wrote and asked me:

First, allow me to thank you for providing such a wonderful resource on uniforming in Boy Scouts. Your page answered questions that I have had from back when I was a youth scouter, as well as questions I never thought to ask.

Thank you very much!

One question that has occurred to me and I can't find an answer to on your page regards the 50 miler award in scouting. When I was a scout, it was traditionally stitched onto the back of the merit badge sash (at least, that's what our troop and others in the area did). For adult scouters who earned the award when they were scouts, where would it be worn? I assume it would be on the right pocket as a temporary patch, but I wanted to see if there was another option, such as a square knot insignia.

The 50 Miler patch, along with the Historic Trails and the Paul Bunyan Axman awards, are all considered "equipment decoration". They were designed primarily to be worn on the backpack, on blankets, or other personal equipment of the Scout or Scouter. It was NEVER designed to be worn on the merit badge sash, nor on the field uniform itself.

The first versions of these emblems were stamped from leather pieces. They were to be attached to the rugged cotton cloth of the Yucca backpack and other packs or to be applied alongside a doorway of the infamous "Wall" tent.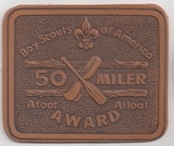 Leather version of the 50-Miler Award
As BSA equipment improved with the introduction of nylon fabrics, the emblems were tough to attach to the equipment. About either 1966 or 67, the BSA introduced full color cloth emblems.
The 50-Miler emblem was designed to be a large emblem which could be placed also on the backside of the green or red jac-shirt (later to have the blue one included) or on the lighter-weight nylon or cotton jackets. The Historic Trails Award emblem followed soon afterward, and the Paul Bunyan Axman Award came after that. No leather emblem was created for the Paul Bunyan Axman Award.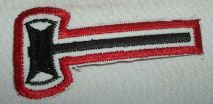 Paul Bunyan Axman Award cloth equipment decoration emblem.
The 1960 National Scout Jamboree featured a leather patch for the first time; it was followed up with the 63 World Jamboree and the 64 National Scout Jamboree, each with their own leather patch. Since then, each Jamboree featured a leather patch as well for attaching to equipment.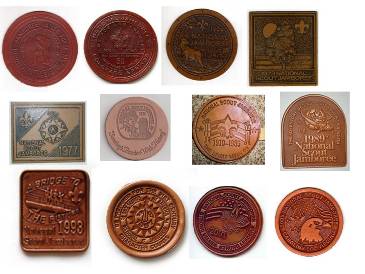 Examples of Jamboree® leather equipment decoration items
In 1972, the BSA redoubled their outdoor programs and introduced a special term for those special adventures: "High Adventure". The first High Adventure emblems also included a leather emblem which was to be worn like the 50-Miler or Historic Trails emblems -- on equipment.

High Adventure leather equipment decoration
Also during that time, decals were introduced (but quietly retired later when some Scouts and Scouters did not understand that they were to be placed on THEIR PERSONAL EQUIPMENT and not used to mark trails or to place on OTHER PEOPLE'S equipment or items!!) The current High Adventure emblem is much smaller but is still considered an "equipment decoration" item despite its small size.
Originally, only one 50-Miler and one Historic Trails Award emblem would be able to be earned by Scouts and Explorers. Later, that restriction was removed and Scouts, Scouters and now Venturing youth and adult members may wear an unlimited number of Historic Trails, 50-Miler and High Adventure emblems.
A "square knot" doesn't exist and won't exist for those emblems, Sean, because there is a place for them to be displayed -- on personal equipment belonging to the Scout or Scouter who participated in a 50-Miler event or activity. I wear one on my jac-shirt back, along with the other eight on a blanket I personally bring to some Scouting events. My leather 50-Miler is on my blue backpack, along with my High Adventure, Philmont, and Historic Trails emblems. This is also the reason why the BSA will not create a "square knot" for those Scouts and Scouters going to one of the BSA's High Adventure (Outdoor Adventure) bases.
Thanks for asking me and thanks for the great words!
Settummanque!
Back to the Top of this Page
---
Credits: Scans courtesy of Mike Walton



This webpage is designed for printing, three-hole punching, and insertion into Your Binder!





Back to The Tree

Insignia mainpage
© 2009 Settummanque!
Designed by Mike Walton


Created with the CoffeeCup HTML Editor
*Boy Scouts of America®, BSA®, the Universal Emblem, Arrow of Light®, Cub Scouts®, Eagle Scout®, Scouting®, Order of the Arrow® and all other related marks and insignia, are either registered trademarks or trademarks of Boy Scouts of America in the United States and/or other countries. All other trademarks are the property of their respective owners.*