Insignia
Adult Uniform Left Side/Knot Insignia Den Leader Training Award
Cub Scout Den Leader Training Award


Cub Scout Den Leader Training Award square knot emblem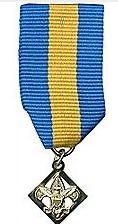 Cub Scout Den Leader Training Award

Description: Uniform emblem is composed of a gold (yellow) knot on a blue background. The colors blue and gold are the colors of Cub Scouting; yellow was used as knot emblem color because regular Den leaders traditionally led Cub Scouts wearing yellow neckerchiefs (Wolves and Bears). Colors now are also associated with the blue/yellow/blue ribbon of the medal.
Worn by: Male and Female Scouters
Earned or Received: Earned
Application for Cub Scout Den Leader Award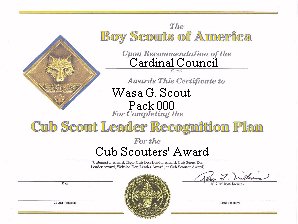 Background: The Den Leader Award is earned by Den Leaders by completing one year of service as Den Leader, completing the Cub Scout Basic training course and attendance at a Pow-Wow, and the completion of five of eight performance projects. Assistant Den Leaders may work toward completion of the Award but they must serve at least one year as a registered Den Leader of a Cub Scout den.
Devices are placed on the ribbon of the medal as well as on the square knot emblem to symbolize in which program area the award was earned: either as a Tiger Cub, Cub Scout (Wolf/Bear) and/or WEBELOS Den Leader.
Rarity of Award: Common
Settummanque!
Back to the Top of this Page
---
Credits: Scans courtesy of Mike Walton.



This webpage is designed for printing, three-hole punching, and insertion into Your Binder!





Back to The Tree

Insignia mainpage
© 2009 Settummanque!
Designed by Mike Walton


Created with the CoffeeCup HTML Editor
*Boy Scouts of America®, BSA®, the Universal Emblem, Arrow of Light®, Cub Scouts®, Eagle Scout®, Scouting®, Order of the Arrow® and all other related marks and insignia, are either registered trademarks or trademarks of Boy Scouts of America in the United States and/or other countries. All other trademarks are the property of their respective owners.*