> updated 3/3/12

The 50 Miler (above) and Historic Trails Award (below) are two examples of equipment decoration items. The leather emblems were originally designed to be worn attached to backpacks, jackets, vests, blankets or tents. As material changed and with many Scouts having problems sewing the leather emblems to their equipment, cloth emblems emerged but remain the same: as equipment decoration ONLY -- not something to wear on the uniform or a merit badge sash.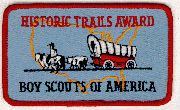 Insignia <

Adult Uniform Left Shoulder Arrowhead Honor

Arrowhead Honor

The Arrowhead Honor Award was established by the BSA as a training emblem originally for Scoutmasters and Assistants in the middle 40s. The emblem -- an arrow point originally pointing downward -- was designed as an interim training recognition as Scoutmasters would work toward earning the Scouters' Key Award and Assistants toward earning the Scouters' Training Award.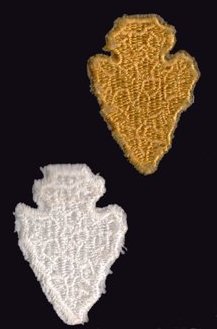 In the early 60s, the award was redesigned and designated as an interim award to recognize unit and District-level Commissioners. The Arrowhead would also be turned (pointing upward) and the Gold Arrowhead was removed as a training recognition.
The emblem is worn normally under the Commissioner badge of office (either the Unit Commissioner, Assisstant District Commissioner, District Commissioner, Assistant or Associate Council Commissioner, or Council Commissioner) to recognize that the Commissioner has been trained in the position.
When wearing the short-sleeved shirt, the Commissioner emblem may be moved upward (since Commissioners normally do not wear unit numbers) to accommodate the Arrowhead Honor emblem.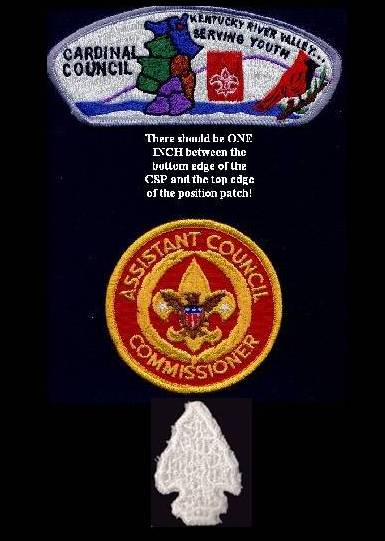 With the introduction of the "Centennial" field uniform and its "technology pocket", the badge of office would be worn centered on the pocket. This gave no space for the Arrowhead Honor emblem. The BSA's solution was announced first in a Supply Bulletin and then in a training bulletin:
"The Commissioner Arrowhead Honor emblem is to be worn on the left sleeve of the Commissioner's uniform immediately below the Council Shoulder Strip (in the location whereby unit-level Scouters would wear a unit number). The reason for the placement is because Commissioners are not registered within a unit."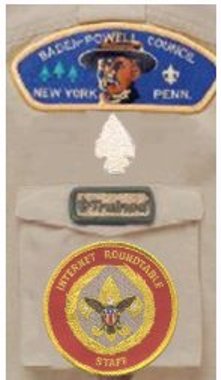 Zone, Area, Regional and National Commissioner staff members do not wear the Commissioner Arrowhead Honor; it is an option for the National and International Commissioners to wear or not to wear the Commissioner Arrowhead Honor based on Council, District or unit attainment of that honor.
In 2009, the Commissioner Arrowhead Honor emblem was redesigned to a white/silver arrowhead without the additional embrordery which made it look like a weathered arrowhead. Either version of the emblem is acceptable for wear.
Settummanque!
Back to the Top of this Page
---
Credits: Scans courtesy of Mike Walton



This webpage is designed for printing, three-hole punching, and insertion into Your Binder!





Back to The Tree

Insignia mainpage
© 2012 Settummanque!
Designed by Mike Walton


Created with the CoffeeCup HTML Editor
*Boy Scouts of America®, BSA®, the Universal Emblem, Arrow of Light®, Cub Scouts®, Eagle Scout®, Scouting®, Order of the Arrow® and all other related marks and insignia, are either registered trademarks or trademarks of Boy Scouts of America in the United States and/or other countries. All other trademarks are the property of their respective owners.*