Transatlantic Council (TAC) Center "Round the World" Emblems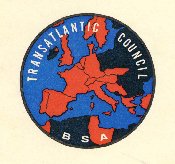 There are some six or seven TAC Council patches which have been made to support the program; I have several of them and are still looking for others. As previously stated, the TAC "Round the World" emblem shown below is a three-inch circular emblem which is worn centered on the right pocket of TAC youth and adult members. The patch serves a dual purpose: to recognize members of the Council as well as the central item which the segmented patches (segments) goes around. The countries the Council serves are in red (later green) and has changed over the years as the Council's presence in those countries changes:
I can also use another one of the special TAC EXPLORING central patch which was made for Explorers and their leaders registered with the Council (shown top right above)
Take a look and if you've got something different than these, please post me and let me know.
(Thanks to Chuck Kirland for the new central patches and for the new segments which appear on the segment pages. I do appreciate it greatly!)
I hope you've enjoyed this view of these special small pieces of cloth and thread. I have enjoyed showing you what I've earned and was proud to wear and those that I didn't earn but have found a part of Scouting's history overseas.
If you can help me with finding additional segments, please let me know!
Settummanque!
---
© 1997-2010 Settummanque! for Rose Walton
Designed by Mike Walton