Insignia

Cub/Boy Scout Insignia Left Shoulder Lone Scouting insignia

Lone Scouting insignia

Hi Aimie...I take it that NOBODY at your Council office has a copy of the BSA's Insignia Guide handy, huh?? *heheheheeheheehee*

No, this is NOT a "knock" on you but rather THEM. If you don't mind, I'll put together a page on my Badge and Uniform Site along with this response to show you where it goes.

You wrote and asked me:

"My 7 year old son is registered with the BSA as a Lone Cub Scout. But no one I've talked to at Local Council or National Council knows whether he should wear the Lone Scout emblem on his Cub Scout uniform."

He MUST wear the Lone CUB SCOUT (there is one!) or Lone SCOUT (if you can't find a Cub Scout one) emblem... no "should" in there. He's a Lone Cub Scout, and is NOT a member of a Pack.
"They all say it's a Boy Scout Patrol Patch and as such is not for the Cub Scout uniform."
NOOOO it is NOT a "patrol patch" or emblem!!! It is VERY APPROPRIATE for the Cub Scout uniform in the proper location!
Can you give me a name of the person you talked with at National? I would love to let their boss know about this...*smiling from ear to ear*
"But all the Lone Scout literature I've read say that Lone Cub Scouts should wear the Lone Scout neckerchief and emblem."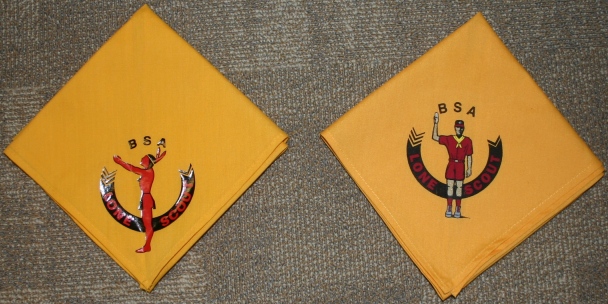 Lone Scout neckerchiefs (either version may be worn; the one on the right is the current version.)
ABSOLUTELY, Aimie!!! There used to be a Lone Cub Scout neckerchief but I believe it was discontinued; both Lone Cub Scouts and Lone Boy Scouts wear the same neckerchief...there are two versions out there...depending on how old the stock is at the local Council or the Scout Shop(tm) which services your local Council.
The older version (and if you get one of these, please HANG ONTO IT -- as it is very valuable in "trading and collecting circles"!!) features an American Indian with the words "Lone Scout BSA" on it. The current version has a Boy Scout holding his hand in the Sign of the Scout with the words "Lone Scout". Either is acceptable to wear; you may also wear the age-appropriate Cub Scout neckerchief for your son (Orange for Tiger; Gold for Wolf, light Blue for Bear; and the WEBELOS Plaid for his time as a WEBELOS Cub Scout) AND YOURSELF (as you are his "Friend and Counselor:", you are entitled to wear -- and should wear -- a Cub Scout uniform with the same neckerchief as your Cub Scout son OR (what I would wear) the Lone Scout neckerchief.
It's explained in that booklet you have called the Lone Scout Friend and Counselor Guide.
"Do you know whether he should be wearing the Lone Scout patch in place of Pack Numerals?"
He (and you) are NOT members of a Pack; therefore, there are NO Pack numbers to wear. Instead, you wear the Lone Scout medallion (emblem) in position two, left shoulder (in American English: below and touching the Council Shoulder Patch which represents the Council in which you two are registered within). The emblem is the same size (one inch in diameter) as the unit numbers, which is why you wear it there.
Additionally, the BSA will be producing a Lone Scout Friend and Counselor badge of office for you and other adults next spring upon approval by the BSA's National Executive Board. It's a long time coming....in the meantime, there's not an official badge of office for Lone Scout Friends and Counselors yet. I'm working with someone who is doing the design for the badge of office, that's how I know that it's coming...*smiling*.
Hopefully this will help you and others out...I will create that page as SOON AS I CAN THIS WEEK, and I thank you in advance for asking such a great question....but one which seriously should have been answered by those in your local Council who were really, and this is ME saying this, too lazy and embarrassed to say "I don't know -- let's look it up in the BSA's Insignia Guide and find out..." and at least in TWO PLACES are black and white illustrations of what the emblem looks like, the BSA catalog number, and where it goes on either the Cub Scout or Boy Scout uniform.
And seriously, Aimie...please give me the name of that professional you talked with at National; if that person is telling YOU this, I can imagine that he or she is telling OTHER PEOPLE the same information...he and his boss need to know that this isn't "Quality Scouting Service to our volunteers".
Since this posting, and thanks to several Lone Scout Friend and Counselors responding to a set of surveys, the BSA's Lone Scouting Team created and got approval for a NEW Lone Scout "Unit Number" to replace the medallions shown above. This is the emblem which is worn only by Lone Cub Scouts and Lone Boy Scouts below the Council Shoulder Patch (CSP):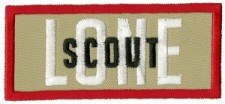 Current Lone Scout "Unit" emblem (youth wear only)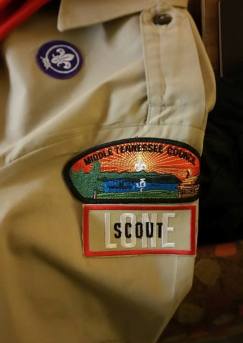 Placement of the new Lone Scout "unit" emblem
There is also a new Lone Scout Friend and Counselor badge of office; here is a prototype image of the emblem. The final design of the emblem will be determined by the Lone Scouting Team and forwarded to the National Executive Board for approval in the fall of 2015.

Current Lone Scout Friend and Counselor emblem (adult wear only)
Settummanque!
Back to the Top of this Page
This webpage is designed for printing, three-hole punching, and insertion into Your Binder!


Back to The Tree

Insignia mainpage
© 2008-2015 Settummanque!
Designed by Mike Walton


Created with the CoffeeCup HTML Editor
*Boy Scouts of America®, BSA®, the Universal Emblem, Arrow of Light®, Cub Scouts®, Eagle Scout®, Scouting®, Order of the Arrow® and all other related marks and insignia, are either registered trademarks or trademarks of Boy Scouts of America in the United States and/or other countries. All other trademarks are the property of their respective owners.*